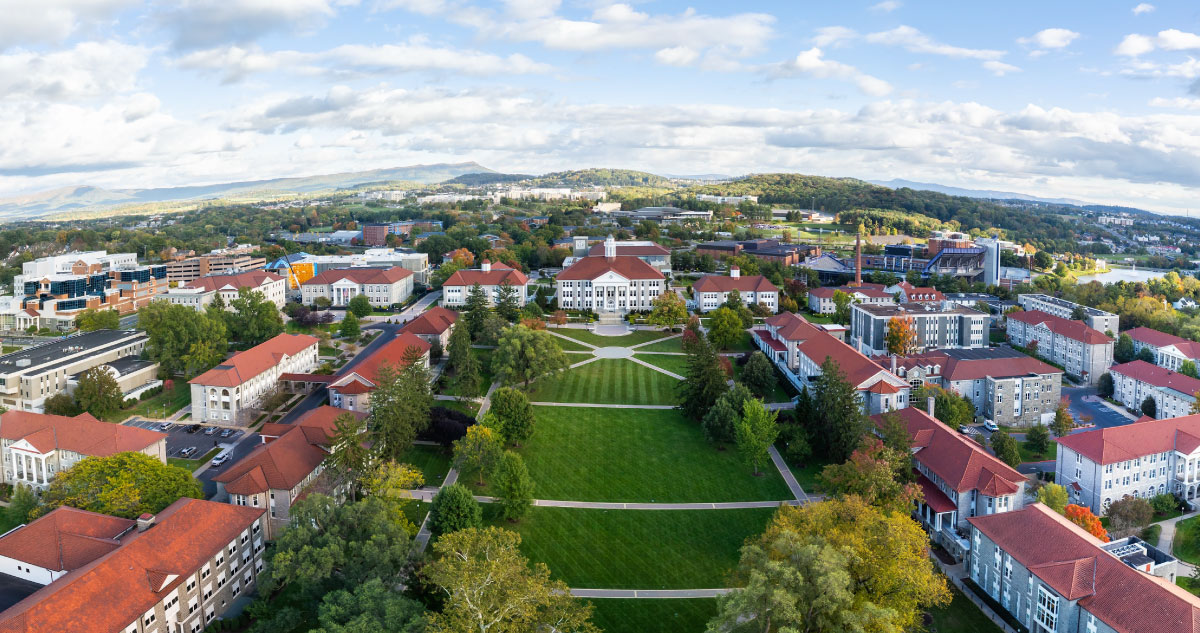 Board of visitors summary of actions and discussions
The James Madison University Board of Visitors met on Friday, November 18, 2022 at the Festival Conference and Student Center.
The following is a summary of the actions taken by the board and the main topics discussed at the board meeting:
Approved the minutes of the Board of Visitors meeting of September 16, 2022;
Accepted reports from the Academic Excellence, Advancement and Engagement, Athletics, Audit, Governance, Finance and Physical Development, and Student Affairs Committees;
Myles Surrett, Associate Vice President for Career, Experiential Learning and Transition, provided an update on the Career Center and Career Outcomes for Students;
Paul Mabrey, Director of QEP, provided an update on the Quality Improvement Plan;
Heather Coltman, Vice President and First Vice President, and Tim Miller, Vice President Student Affairs, provided an overview of the Internship Working Group.
President Algiers shared during his Presidential Report:
An application update has been provided for the freshman class of 2023 with the following freshman demographics: early applicants at 24,156 (30% increase); 12,195 in the state (25% increase); 11,573 out of state (32% increase); 62.2% women; 38.8% male; 17% first generation (56% increase); and 28% from underrepresented minorities (42% increase);
Renamed the old Madison Hall after Paul Holland ('82) and Linda Yates, who provided the largest cash donation ever for scholarships;
"It's JMU", an updated video used for sign-up marketing was released;
JMU representatives participated in panels at the APLU annual conference;
Dietra Trent, US Department of Education, and Sean Hearne, Southeastern Universities Research Association, were recently welcomed to campus to advance collaborative research and inclusive excellence efforts;
Libraries have a new department to help teachers identify, use and create Open Educational Resources (OER);
The Center for Assessment and Research Studies received the 2022 Trudy W. Banta Lifetime Achievement in Assessment Award;
The Gilliam Center for Entrepreneurship won the Outstanding Emerging Entrepreneurship Center Award from the Global Consortium of Entrepreneurship Centers;
Karin Tollefson-Hall, associate director of the School of Art, Design, and Art History, was named Virginia's 2022 Art Educator of the Year;
The number of studies abroad is up on last year with 1,308 applications;
The Rwanda Task Force led by Mike Davis, Chief of Staff, and Neil Marrin, College of Business, took a team in October to meet with government officials, university partners, K-12 schools and Rwandan sports organizations ;
For the 2022 elections, forums were held, the Madison Center for Civic Engagement created a 2022 voter guide for students and shared information about where to vote on campus;
Organization of the SOMOS conference (which means "we are") in October; Latinx Conference featuring faculty, staff, alumni, community members and others from across the state with keynote address by Delores Huerta;
An update on the upcoming General Assembly which included budget requests;
JMU's regional accreditor, the Southern Association of Colleges and Schools Commission on Colleges (SACSCOC) will send a visiting team to JMU in April 2023 as the university goes through the reaffirmation process;
JMU has been recognized in all three academic categories for academic achievement by the Sun Belt;
Reddix Center Nomination Gift Announcement for First Generation Students.