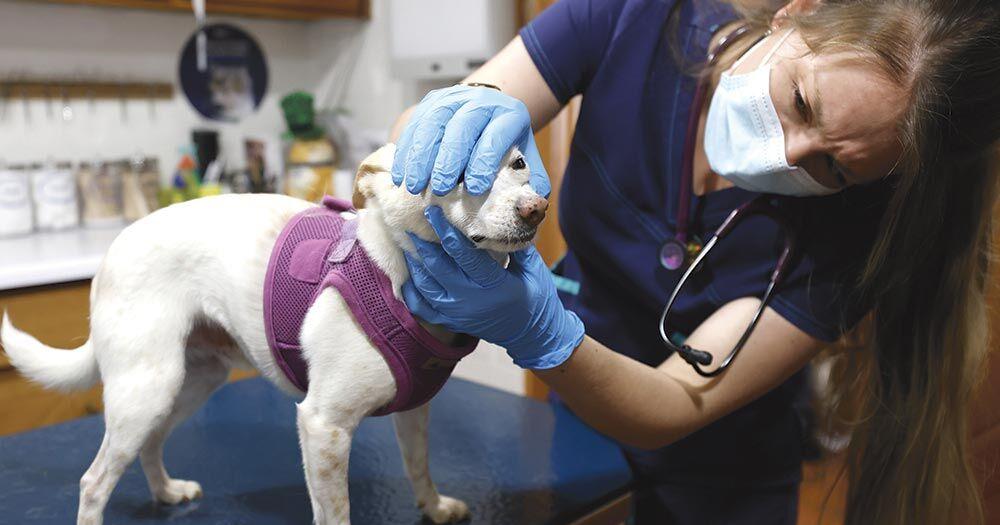 Humans are quick to purchase medical insurance for themselves. But what about animals? Is pet insurance worth it and how do you choose a plan? | Cover collections
THE BENEFITS OF ADOPTING THAT CUTE KITTEN OR ADORABLE PUPPY MAY SEEM LIKE THEY FAR EXCEED THE COST OF AN INITIAL VET VISIT with a few injections, flea medicine and food, but an accident or unforeseen illness later and suddenly the costs – potentially totaling thousands of dollars – will turn a joyous addition into a heavy burden. How can these costs be mitigated? Just like with humans, there is health insurance for pets, but it's not cheap and it's probably best purchased when the pets are young.
For some, the costs of pet insurance don't make sense. But it can give them the peace of mind that they can seek out expensive care in an emergency knowing they can be reimbursed and even avoid the painful decision to euthanize or return a pet.
Carmel Valley resident Hilary Lefort has always used pet insurance for her dogs and told her kids not to even consider adopting a pet until they can afford the monthly payments. insurance. "I'm really glad I got it," Lefort said.
Monthly payments for puppy policies are generally low, depending on the breed. The insurance works like human health insurance, with annual premiums, deductibles and caps. Lefort pays around $50 a month per dog. "[Insurance companies] get five years without paying a lot, then you get five years where they pay a lot," she says.
A small dog adopted by the family, Norman, was found to have a serious spinal problem and needed an $8,000 MRI from UC Davis Veterinary Hospital. The insurance company worked with the hospital to prepay the bill even before Lefort arrived at the Central Valley Hospital. If Norman had needed spinal surgery, insurance would have paid 90% of the cost. "It allows me to make the right decisions for my dog ​​without worrying about how I'm going to pay him," she says.
An $8,000 MRI is an extreme example, but Lefort says insurance is worth it even for small issues. At least one of his dogs will get foxtail stuck in their noses every year on walks in Garland Ranch Regional Park, resulting in a vet bill of about $300 per visit. Over the years she had dogs that suffered from cancer, congenital blindness, kidney failure, gastroenteritis and other ailments. "There is rarely a year where there are no claims at all," she said.
Purchasing coverage when animals are young results in lower premiums over the life of the animal, but premiums can increase significantly for older animals. According to US News and World Report, the average cost of coverage for a young dog is about $48 per month for basic coverage. The next level of coverage, comprehensive care — which covers office visits, tests, x-rays and lab fees — is higher. Wellness care — which includes preventative care — can exceed $150 per month. (Insurance for cats generally has lower premiums, averaging less than $30 per month for basic coverage.)
Since the first pet insurance policy was issued in 1982, the number of companies offering policies has exploded. Choosing a plan is not an easy task. It's important to weigh the cost of the plan against deductibles and what's covered and not covered, as well as whether your vet accepts insurance. Some companies offer discounts for military, multiple pets, or service animals.
At VCA Ocean View Animal Hospital in Pacific Grove, customers receive a flyer with the names of 10 companies and the suggestion to visit petinsurancereview.com for a comparison of insurers and the plans they offer. Another good source of information is US News and World Reportof the comparison, viewable at usnews.com/insurance/pet-insurance.