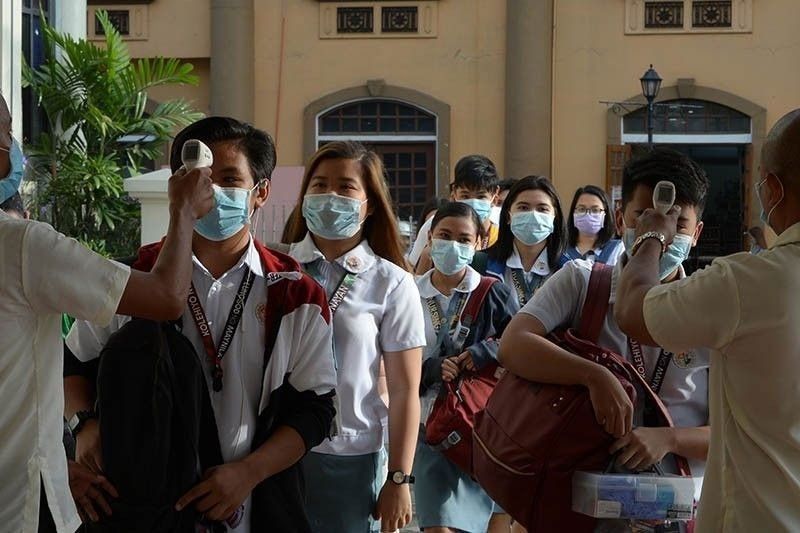 IATF removes medical insurance requirement for face-to-face students
MANILA, Philippines — The government has repealed a policy requiring students taking face-to-face (F2F) classes to have medical insurance amid the COVID-19 pandemic, Malacañang announced yesterday.
"The Inter-Agency Task Force for the Management of Emerging Infectious Diseases (IATF) has approved the recommendation of the Commission on Higher Education (CHED) to repeal the student medical insurance stipulated in the CHED-DOH Joint Circular Memorandum No. 2021-004," the acting president's deputy spokesperson, Michel Kristian Ablan, said during a press briefing.
Under the joint memorandum signed by Secretary of Health Francisco Duque III and CHED President Prospero de Vera III last December, students who attend F2F courses are registered with the Philippine Health Insurance Corp. (PhilHealth) as a direct or indirect contributor (direct contributor's dependents) or with equivalent medical insurance that covers medical expenses related to COVID-19.
The National Union of Students of the Philippines (NUSP) has previously urged the government to allocate budget for health insurance for students and teachers attending in-person classes.
NUSP President Jandeil Roperos said students who do not qualify as dependents should seek their own insurance and pay their dues to PhilHealth.
Senator Nancy Binay also questioned the requirement, saying it weighs more heavily on students, especially those from poor families.
Under Alert Level 1, colleges and universities can resume F2F classes at full capacity, provided all faculty, students, and non-teaching staff on campus are fully immunized.
F2F healthier
The Department of Health (DOH) yesterday urged parents and guardians of school-aged children to endorse F2F classes, saying they are "healthier".
In a public health advisory, the DOH reminded the general public of the "benefits" of F2F schooling.
"F2F school attendance will allow children to develop their cognitive and social skills experientially," the agency noted.
According to the DOH, F2F promotes physical and mental health and well-being, citing the latest scientific evidence.
"Let's give our children the education and learning development they need and deserve this coming school year by providing them with the best education and protection," he added.
The DOH said the risk of becoming infected with COVID-19 can be reduced if teachers, students and other school personnel receive their first round of vaccines and booster shots when eligible.
The agency added that it is also crucial that everyone in the school follows health protocols such as appropriate wearing of face masks, hand washing and physical distancing. He also highlighted the need for schools to have good ventilation to ensure good air circulation.