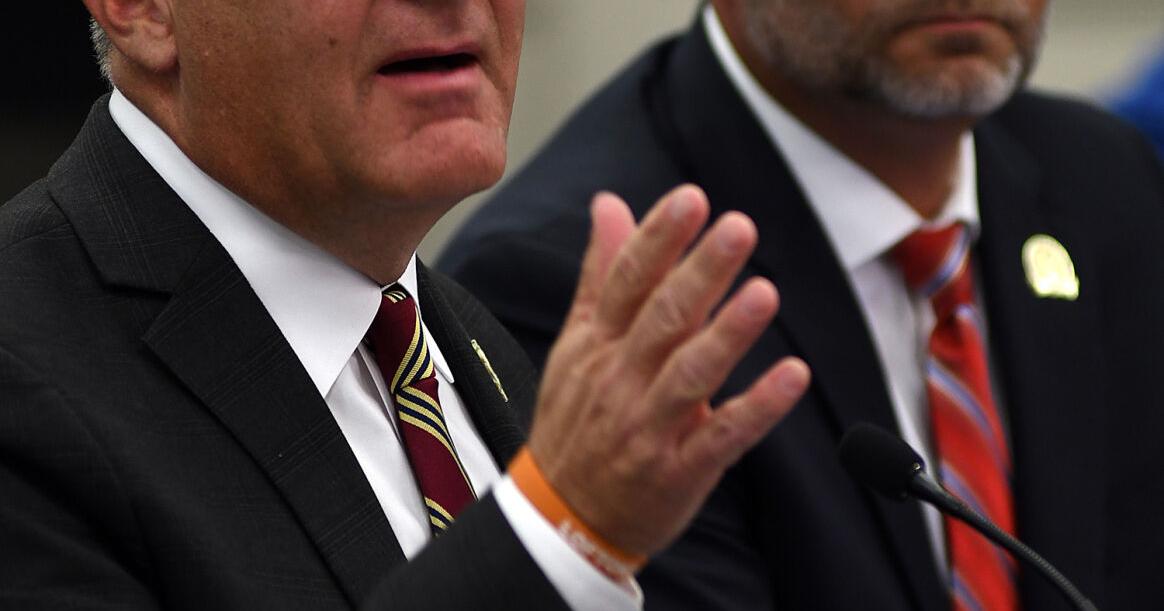 Lawmakers share plan with legislative committee to criminalize hazing | Kentucky
FRANKFORT—Two Kentucky lawmakers plan to introduce legislation in 2023 to make hazing a crime in the Commonwealth.
Sen. Robby Mills, R-Henderson, and Rep. Jonathan Dixon, R-Corydon, testified Thursday before the Interim Joint Committee on the Judiciary alongside the parents of 18-year-old Lofton Hazelwood.
Hazelwood, a University of Kentucky student and Henderson native, died of alcohol toxicity at a fraternity home last year. The bill will be known as Lofton's Law.
"We believe that intentional, gratuitous, and reckless participation in the act of hazing must be stopped in Kentucky," Mills said. "And the only way for the organizations and the people who operate those organizations to understand the seriousness of hazing is to associate a crime with that behavior in Kentucky."
The anti-hazing legislation proposed by Mills and Dixon defines hazing as an action that endangers the mental or physical health of a minor or student for the purpose of recruitment, initiation, affiliation or improving or maintaining membership or status within an organization.
Activities that would be considered hazing under this law include inducing, coercing, or forcing a minor or student to violate federal or state law; consume any food, liquid, alcoholic beverage, drug, tobacco product or other controlled substance; enduring physical brutality, enduring sexual brutality and other activities that endanger the person's physical and mental health.
Under this bill, a person would be guilty of first-degree hazing, a Class D felony, if they intentionally or wantonly participate in hazing that results in serious physical injury or death. A person would be guilty of second-degree hazing, a class A misdemeanor, if they recklessly participate in the act of hazing.
"We believe hazing activity is not something we should condone because it can result in death, injury and destruction to Kentucky families and friends," Mills said.
Lofton Hazelwood's mother, Tracey Hazelwood, shared her son's story with the committee. She said hazing at the fraternity her son was trying to join began weeks before his death, with members forcing her son to drink alcohol, participate in vandalism, chew tobacco until he vomits and more.
After an inquest, it was reported that Lofton had died after consuming 18 pours of bourbon from a plastic cup on October 18, 2021. He was left alone while extremely intoxicated, and at the time he was discovered unconscious, it was too late, Tracey Hazelwood said.
"Please consider this bill," she said. "We need Lofton's law in place as soon as possible. It won't bring my son back, but it might save someone else's son.
Dixon said that while he thinks fraternities and sororities are an important part of the college experience, those who engage in hazing need more accountability.
"I hope that by starting this conversation today about the risks and potential outcomes of hazing, we can potentially add a harsher sentence for those who engage in this behavior and save many, many lives," Dixon said.
Rep. Patrick Flannery, R-Olive Hill, suggested sponsors consider making the first-degree hazing sentence a Class C felony.
"Or just find ways to be more punitive to discourage this type of criminal behavior, or maybe even have some sort of aggravated offense if it involved some sort of fraternity or sorority hazing practice," he said. -he adds.
Sen. Karen Berg, D-Louisville, asked if the fraternity had been disbanded and if there were any lawsuits filed against the organization. Tracey Hazelwood said that was the case and there was a lawsuit pending.
Sen. Alice Forgy Kerr, R-Lexington, argued for adding an educational component to the bill. Mills liked the idea.
As of Oct. 20, Mills and Dixon have not submitted an anti-hazing-related draft work draft for the 2023 legislative session. During the interim, the Kentucky General Assembly cannot take any legislative action. The 2023 legislative session begins on January 3.