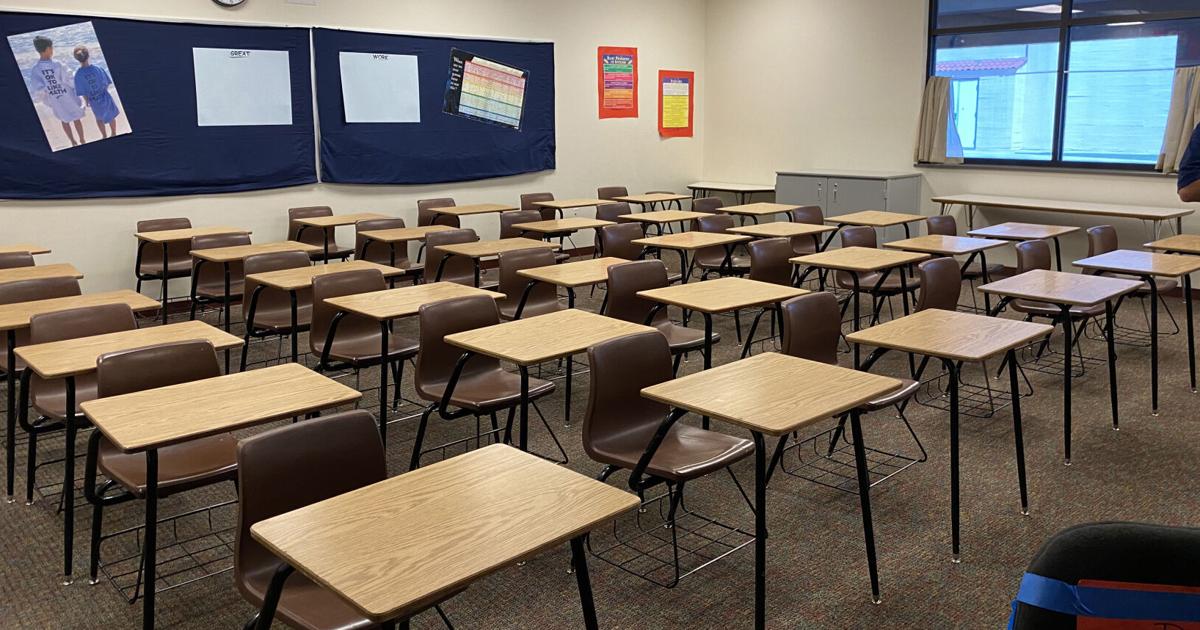 Local schools cite transportation issues when planning new mandatory start times | News
New state legislation requiring most middle and high schools to start classes later this fall has created a number of concerns that local districts are working to address.
Senate Bill 328, signed into law in 2019 by Governor Gavin Newsom, said middle schools must start classes no earlier than 8 a.m. and high schools no earlier than 8:30 a.m. The bill cites research on the effects of sleep deprivation in adolescents and the benefits of a later start time.
"It's … very frustrating (for) a lot of people because it seems like an absolutely unnecessary change right now," Bakersfield High School teacher Jeremy Adams said on Friday. "Maybe it would be a good idea once things get back to normal. It's a… inconvenience mistake.
The two largest districts in the community — Bakersfield City School District and Kern School District — are grappling with policy changes that will uproot their current schedules, according to presentations made at board meetings of both. districts.
However, some neighborhoods are not impacted at all. The Wasco Union School District, for example, is claiming an exemption as a rural school district and therefore does not have to comply, according to district superintendent Robert Cobb in an email.
For BCSD and KHSD, this means significant changes in their transportation plans. Amid a nationwide shortage of bus drivers, many school officials are dealing with limited resources while ensuring students arrive on campus in a timely manner, according to presentations.
"When you change a schedule, there are all kinds of things that we have to look at," said Jennifer Irvin, assistant superintendent of education services for the Panama-Buena Vista Union School District, which already has a law-compliant schedule. . . "There is a lot of planning to do. It affects every department, every division.
Elementary and middle school students
Laura Orozco, BCSD's assistant superintendent of educational services, said parents who want to start their work day early must adjust to this new schedule.
Because junior high schools will now start at 8 a.m., Orozco said, 11 elementary schools must also start at that time to accommodate their new transportation system.
BCSD generally has a three-tier bus system and will transition to a two-tier system.
A three-tier system involves staggered student pickup times. A transport fleet would deploy to collect the children no earlier than 7:30 a.m., which is the first level. These buses return and then run again to pick up students whose schools start at 8:15 a.m., which is the second tier. The third tier again included those same buses, but picked up students for later-starting schools, Orozco said.
A two-tier system involves buses collecting junior high school students to get to school at 8 a.m. on the first tier. Eleven elementary schools will join at this level, Orozco said. The second tier includes 22 schools starting at 8:50 a.m., representing the bulk of elementary schools in the district, she added.
To accommodate these changes, the number of bus lines will be reduced, according to a presentation made at BCSD's board meeting on Tuesday. In large part, special education students will have new routes because their commute times typically take longer, said Nikki Stiles, BCSD assistant director for special education services, at the board meeting. administration on Tuesday.
For example, Leo G. Pauly Elementary School has four dedicated classrooms for students with autism, Stiles said. There are a total of 31 students with autism in this elementary school, but only nine students live within the school boundaries. Some students within Pauly's boundaries attend different campuses, she added.
The school plans to relocate 22 teachers and about 165 students to move special education classes to different campuses, Stiles said Tuesday. For pupils, the change will also shorten their bus journeys and allow them to attend schools closest to their homes, she added.
The BCSD also faces a shortage of bus drivers when discussing these changes. The district is hiring almost weekly to meet demand, while losing drivers' retirement or employee departures, Orozco said.
"This (bill) has exacerbated that," she said.
The Panama-Buena Vista Union and Rosedale Union school districts are not affected by the legislation because schools are already starting after prescribed hours, officials from both schools wrote via email.
Irvin said the PBVUSD district has taken this approach to adding instructional minutes, as well as citing university research on student rest.
Kern School District
Mike Zulfa, Deputy Superintendent of Business, presented KHSD's plans at a February board meeting.
At the meeting, he said discussion has been going on for months to understand the impact of the legislation on vocational and technical education programs, extracurricular activities, meal service and transportation, families and employees.
Zulfa said they can offer classes without a period, or classes starting before the first period, if a regular day starts at 8:30 a.m. He added that each school will have to adjust its start time, including the new Del Oro High School.
The plan presented in February indicated that 12 campuses could start at 8:30 a.m. and end around 3:30 p.m. Six sites would start at 9:20 a.m. and end around 4:20 p.m., Zulfa said. He attributed the staggered departure times to transportation.
"It's not a local decision," Zulfa said at the February meeting. "It's a state mandate."
KHSD spokeswoman Erin Briscoe-Clarke declined to answer questions about the district's plans because officials are still finalizing them and did not want to release incomplete information that could confuse parents.
Adams, the BHS teacher, added that "the business of life" will be curtailed in the afternoons, such as doctor's appointments and after-school practices. He said he thought the students would not fall asleep until an hour later and therefore would not rest any longer.
"(It) is really going to be undermined by the fact that … the extracurricular activity (will start) in the morning," Adams said. "If you're an active kid, you'll be there regardless."
You can reach Ishani Desai at 661-395-7417. You can also follow her at @idesai98 on Twitter.