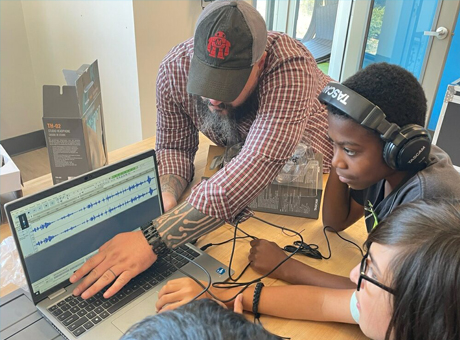 SDCOE's Linda Vista Innovation Center Welcomes Students
As adults, we know there is often more to a problem than meets the eye. We learned through trial and error that there could be several possible solutions to a problem. Life's challenges are complex and layered, and the best idea may not be the right solution when put into practice.
But that can take some time to figure out – and we're all still learning.
That's why the SDCOE Innovation Team at the Linda Vista Innovation Center is focused on preparing students for a future where they can meet these challenges through design thinking, an approach that fosters brainstorming and collaboration. to develop important skills to solve problems that have no answers in textbooks. .
"Being open to ideas, working as part of a team, having empathy for those affected or involved – these are also skills and abilities that will also help young people to develop essential and sought-after skills in the labor market. job," said Al Love, Senior Manager of the College and Career Readiness Team.
About three years ago, SDCOE purchased the Linda Vista Innovation Center, a 35,000 square foot building located at the corner of Linda Vista Road and Comstock Street. It has been transformed into a design think tank where students from county districts and schools can participate in a future-ready bootcamp of hands-on exploration in different career fields, esports, and robotics, while exercising their critical thinking skills.
There are three floors, 17 classrooms and an outdoor classroom, in addition to the Bayside Community Center, which shares building space. The building's experience labs focus on our region's growing industrial sectors: advanced manufacturing/engineering, biotechnology, and information and communications technology. There are three additional labs based on community feedback and needs, such as a future-ready hub, a design lab, and a lab for college STEAM, which stands for science, technology, engineering, arts, and math .
The lab programs were tested over the summer with approximately 100 students in the San Diego Unified School District's Level-Up program. They participated in eight days of exploring a challenge through design thinking and concluded with a podcast pitch of their product or solution.
Students from the SDCOE's Juvenile Court and Community School programs also participated in manufacturing, robotics and drone workshops to learn and develop skills related to high-wage, high-impact industries with a shortage of local talent. The Innovation team has also engaged with students at the Sycuan Tribal Education Center for similar learning experiences.
If students and teachers cannot come to the Linda Vista building, members of the Innovation team will bring tools, demonstrations and projects to students in their own schools and classrooms. Over the past year, the team has delivered week-long courses in robotics and design thinking to approximately 400 students across 11 school sites.
"We create and deliver a customizable menu of experiences for teachers or principals to see what would be the best support to engage students and connect to their curriculum," said Bryan Glasrud, Project Specialist for Learning Through work. "It's about putting it all together."
This year, they plan to actively reach out to districts and schools about the academy's innovation center, labs, and programs to connect with more students who have been historically underserved and marginalized.