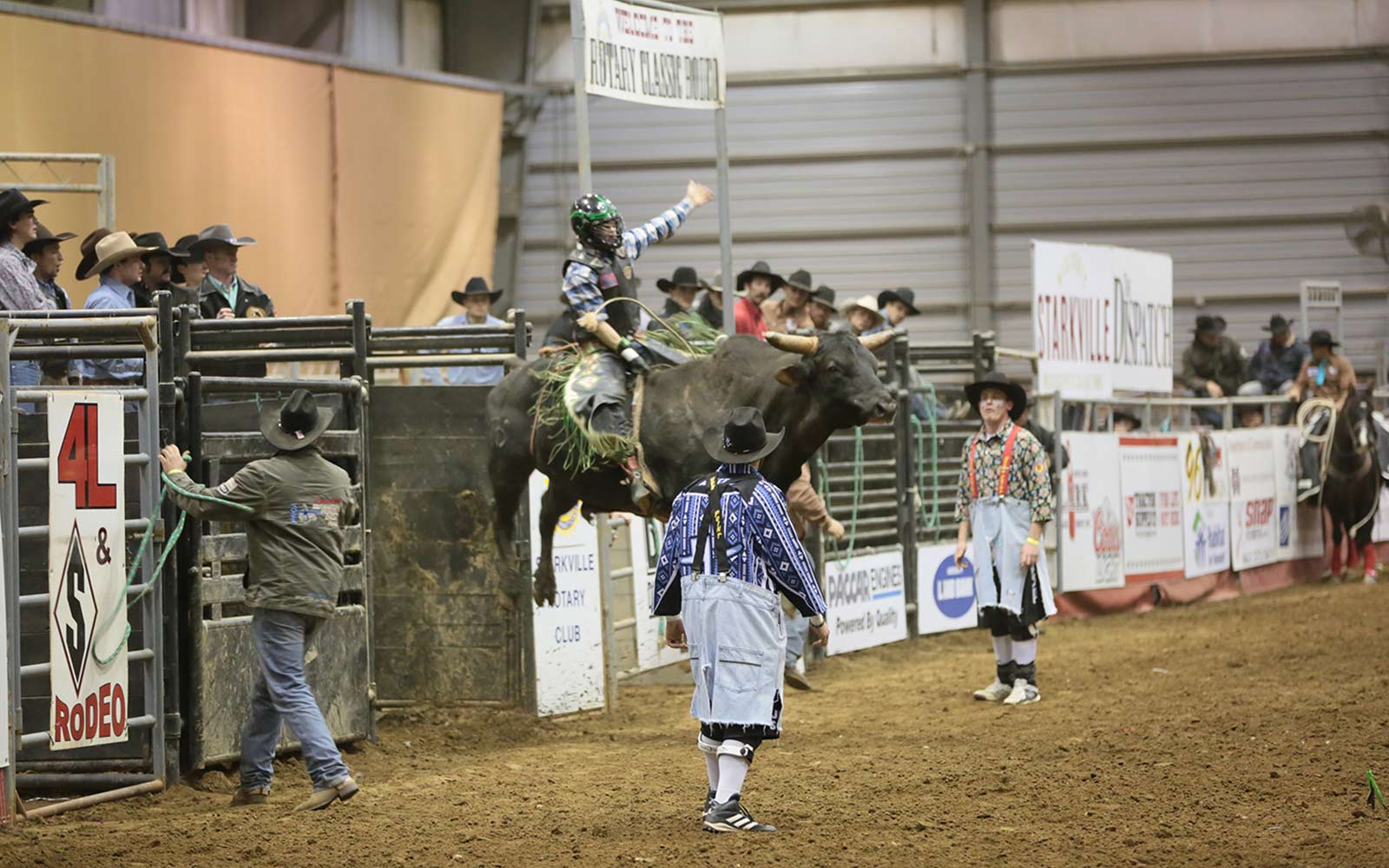 The Rotary Classic Rodeo of Starkville returns to Mississippi Horse Park on February 11-12
Contact: Allison Matthews
STARKVILLE, Mississippi—The annual Rotary Classic Rodeo returns to Mississippi Horse Park February 11-12, featuring competitors from across the country.
The Professional Rodeo Cowboys Association event begins at 7 p.m. every night. Children 12 and under are admitted free on Fridays; children 3 and under are admitted free on Saturdays. On Saturday, attendees can enjoy pony rides and a petting zoo on the arena floor from 5 p.m. to 6:30 p.m. Adult tickets are $15 at the door or $12 in advance .
The women's roping breakaway is added this year to events that include bareback riding, saddle riding, bull riding, steer wrestling, roping, barrel racing and the lasso team. The rodeo has been nationally recognized by the Women's Professional Rodeo Association with two Justin Boots Best Footing Awards for the Southeastern Circuit, and competitors compete for cash prizes, which help them qualify for the Rodeo National Finals in Las Vegas in December.
"The Rodeo" began 18 years ago at Horse Park and is the Starkville Rotary Club's largest fundraiser. Rodeo proceeds support humanitarian, educational and community service activities. The Horse Park is a division of Mississippi State University Extension and is located at 869 East Poor House Road.
Title sponsors include CSpire, Clark Beverage Group, Oktibbeha County Co-Op, Parker Ram, Rick's Café, Starkville Convention and Visitor's Bureau, Tractor Supply Co. and WCBI.
"The committee has worked very hard planning and preparing for this great rodeo," said John Forde, president of the Starkville Rotary Club. "We would like to thank our sponsors who support this community event. We will also have dozens of our members working as volunteers each night of the rodeo. It's a real team effort that has a substantial impact on our local economy.
Advance tickets can be purchased at the Oktibbeha County Cooperative, Greater Starkville Development Partnership, and Tractor Supply Co. in Starkville and Columbus.
For more information, call the Mississippi Horse Park Events Information Line at 662-325-0508, follow on Facebook at MS Horse Park, or visit the Rotary Rodeo website at rodeo.starkvillerotary.org.