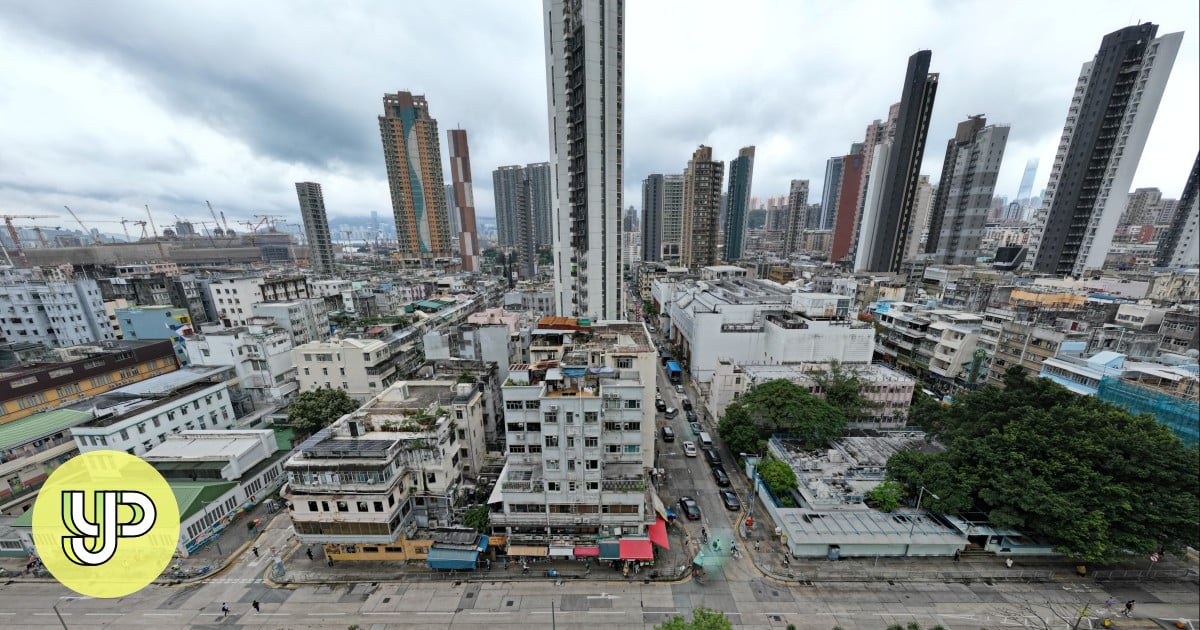 Your Voice: Responsible Redevelopment in Kowloon City; comparing education in Hong Kong and Canada (long letters) – YP
I am writing to express my opinion on the Kowloon City redevelopment project.
The Kai Tak Road and Sa Po Road development scheme proposed by the Urban Renewal Authority (URA) in 2019 aims to connect the old district of Kowloon City with the new development area of ​​Kai Tak.
The plan hopes to improve the walkability of the area by constructing public facilities, such as pedestrian tunnels, parking spaces for public vehicles and a shopping street. It will also improve the places where buses can queue on the Sa Po road. The target date for the completion of the project is 2030 or 2031.
As part of a school project, I took a cultural tour of Kowloon City in May. My classmates and I also collected feedback from fourth-grade students on the redevelopment plan.
Geography and English teachers from STFA Seaward Woo College organized a cultural visit to Kowloon City. Picture: handout
When the students were asked if they would like Sa Po Road and Kai Tak Road to be redeveloped, most of them were in favor of the project. They claimed that improving the living environment and access to public spaces would ultimately benefit residents and businesses in the area.
Some students also said the project would attract new visitors and customers from other parts of Hong Kong to support local businesses.
However, tenants and merchants are still worried about the renovation plan. We interviewed tenants on Kai Tak Road, and they pointed out that the renewal plan would take about 10 years to complete.
This delay would cause store owners to lose all their regular customers, and since no government compensation could compensate for this, it would put small businesses in a difficult situation.
Your voice: Jumbo Floating Restaurant is a Hong Kong landmark
Another concern people had was that the rent for apartments and shops on these new roads would inevitably increase due to redevelopment.
However, if the URA could set aside space for the old stores, owners could restore their businesses to their former glory. Another solution is that the URA could recommend a cap on rent increases, allowing these business owners to continue their work.
As an area known for its historical and cultural significance, from the Walled City of Kowloon to the Thai community, urban renewal faces many challenges in Kowloon City, and officials should bear these in mind when are planning the next steps.
Publication on Hong Kong people's home cooking to record memories of the city
Differences between Education in Canada and Hong Kong
Emmy Mirabella Woo, Crofton House School (Canada)
As a Canadian student, I was curious how the education system in Hong Kong compares to my experience. How is failure perceived by students in these two places? How are students assessed? What is the attitude towards physical education?
Face Off: Is studying in Hong Kong better than studying abroad?
Collaboration and competition
According to Janice Mook, a student at the Diocesan Girls' School, Hong Kong's education system fosters a competitive environment "that results in students not wanting to help others who have achieved similar grades to theirs". It is quite common for students to compare themselves to each other.
In Canada, Emily Louis, who is entering her final year at a private school, has found that collaboration "increases the overall quality of projects because it incorporates everyone's unique strengths, ideas and different perspectives".
She added that "while collaboration helps build meaningful and lasting relationships," there would always be times of competition.
"Especially when students start applying to post-secondary institutions, I think people become more sensitive to their academic performance."
A student in Canada, Emily Louis, says her school encourages a growth mindset in the face of failure. Photo: Shutterstock
An opportunity to learn or a shameful defeat?
Emily said her school encourages students to adopt a growth mindset, which allows them to accept failure and find ways to improve.
This is evident in the standards-based grading system that some schools have adopted in the Canadian city of Vancouver. In this system, students are graded according to competency standards that highlight the learning process rather than being defined by a number.
"Failure really depends on how the party sees it," Janice said. "Depression is a common consequence, as [students] might become closed off and feel the need to withdraw from their peers. On the other hand, she pointed out that some students use pressure to motivate themselves to improve.
Hong Kong student Janice Mook discusses the impact of the city's competitive education system. Photo: May Tse
Athletics and sports
"PE is one of the least targeted subjects in [Hong Kong] secondary schools," said Clarisse Poon, a student at St Paul's Co-educational College. "While schools encourage 60 minutes of exercise each day, they have yet to implement programs to ensure this." At Clarisse's school, for example, students participate in 45-minute physical education classes every week.
In Canada, many students exercise for at least an hour every other day.
My school offers many sports and sports facilities. For students who are not on official teams, my school offers drop-in centers and intramural sports where they can enjoy physical activity in a relaxed way.
Hong Kong's first female street workout coach says sport is for everyone
Strength is in the differences
Canadian and Hong Kong schools may have different approaches to education, and these short interviews are just a small sampling of individual experiences. Nonetheless, discussing these differences fosters connection, bonding, and growth. Ultimately, we should cherish our ability to access one of life's greatest gifts: education.